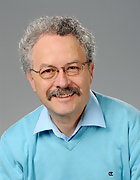 Email
jean-marc.neuhaus@unine.ch
Voici les éléments
1 - 10 sur 100
Protein targeting to the plant vacuole

Vacuolar proteins are synthesized in the endoplasmic reticulum and transported to the vacuole through the secretory pathway. Thee different types of vacuolar targeting peptides have been identified, either internal sequences or sequences carried by N- or C-terminal propeptides. These sequences differ from targeting determinants identified in other organisms. A putative sorting receptor for N-terminal targeting peptides has recently been identified. In contrast, little is known about the sorting of tonoplast proteins. Further work is needed to clarify the biogenesis of the plant vacuole.

Rat β-glucuronidase as a reporter protein for the analysis of the plant secretory pathway

(

2007

)

Di Sansebastiano, Gian-Pietro

;

;

E. coli b-glucuronidase, a cytosolic enzyme, was found not to be a good reporter enzyme for secretion studies in plants. In this study, we chose to test and adapt an animal b-glucuronidase as a better reporter protein for the secretory pathway of plants. We modified rat b-glucuronidase to obtain secreted and vacuolar variants. Five different C-termini were produced: the original C-terminus of the rat enzyme, a 19 codon deletion (D19), a 15 codon deletion (D15) and fusions of the D19 or D15 termini with the last 6 or 7 codons of the vacuolar sorting determinant of tobacco chitinase A, respectively. The signal sequence of the rat b-glucuronidase polypeptide was replaced by the sequence encoding the signal peptide of tobacco chitinase A. In a transient expression system, the best enzymatic activity was found with b-glucuronidase having the 15 codons deletion, therefore D15 (secRGUS) and D15?Chi (RGUS-Chi) were further evaluated and their efficiency of secretion or vacuolar targeting were tested under different conditions. To determine the correct targeting of reporter genes, we compared the localization of b-glucuronidase and of an endogenous marker, a-mannosidase. Treating cells with drugs that specifically affect different aspects of the secretory pathway also tested the validity of RGUS-based reporters. A nonspecific inhibitor such as cytochalasin D and a wide range inhibitor such as BFA were compared with specific inhibitors such as wortmannin and bafilomycin A1. Finally, monensin and NH4Cl were used to evaluate the role of vacuolar pH in correct RGUS-Chi targeting. The two new reporter proteins proved to be good tools for our studies in the transient expression system in tobacco protoplasts and for further applications.