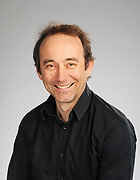 Voici les éléments
1 - 10 sur 101
Isolation of components of the chloroplast protein import machinery

Components of the protein import machinery of the chloroplast were isolated by a procedure in which the import machinery was engaged in vitro with a tagged import substrate under conditions that yielded largely chloroplast envelope-bound import intermediates. Subsequent detergent solubilization of envelope membranes showed that six envelope polypeptides copurified specifically and, apparently, stoichiometrically with the import intermediates. Four of these polypeptides are components of the outer membrane import machinery and are associated with early import intermediates. Two of these polypeptides have been characterized. One is a homolog of the heat shock protein hsp70; the other one is a channel-protein candidate.

Molecular characterization of tomato 3-dehydroquinate dehydratase-shikimate : NADP oxidoreductase

Analysis of cDNAs encoding the bifunctional 3-dehydroquinate dehydratase-shikimate:NADP oxidoreductase (DHQase-SORase) from tomato (Lycopersicon escutlentum) revealed two classes of cDNAs that differed by 57 bp within the coding regions, but were otherwise identical. Comparison of these cDNA sequences with the sequence of the corresponding single gene unequivocally proved that the primary transcript is differentially spliced, potentially giving rise to two polypeptides that differ by 19 amino acids. Quantitative real-time polymerase chain reaction revealed that the longer transcript constitutes at most 1% to 2% of DHQase-SORase transcripts. Expression of the respective polypeptides in Escherichia coli mutants lacking the DHQase or the SORase activity gave functional complementation only in case of the shorter polypeptide, indicating that skipping of a potential exon is a prerequisite for the production of an enzymatically active protein. The deduced amino acid sequence revealed that the DHQase-SORase is most likely synthesized as a precursor with a very short (13-amino acid) plastid-specific transit peptide. Like other genes encoding enzymes of the prechorismate pathway in tomato, this gene is elicitor-inducible. Tissue-specific expression resembles the patterns obtained for 3-deoxy-D-arabino-heptulosonate 7-phosphate synthase 2 and dehydroquinate synthase genes. This work completes our studies of the prechorismate pathway in that cDNAs for all seven enzymes (including isozymes) of the prechorismate pathway from tomato have now been characterized.

In vivo interaction between atToc33 and atToc159 GTP-binding domains demonstrated in a plant split-ubiquitin system

The GTPases atToc33 and atToc159 are pre-protein receptor components of the translocon complex at the outer chloroplast membrane in Arabidopsis. Despite their participation in the same complex in vivo, evidence for their interaction is still lacking. Here, a split-ubiquitin system is engineered for use in plants, and the in vivo interaction of the Toc GTPases in Arabidopsis and tobacco protoplasts is shown. Using the same method, the self-interaction of the peroxisomal membrane protein atPex11e is demonstrated. The finding suggests a more general suitability of the split-ubiquitin system as a plant in vivo interaction assay.

Identification of proteins associated with plastoglobules isolated from pea (Pisum sativum L.) chloroplasts

Plastoglobules are conspicuous lipid-containing structures in the chloroplast stroma and are thought to serve as lipid reservoirs for thylakoid membranes. Plastoglobules also contain low levels of proteins. We have purified plastoglobules from a pea chloroplast membrane fraction. Sodium dodecyl sulfate-polyacrylamide gel electrophoretic analysis of the purified plastoglobules revealed more than a dozen distinct polypeptides that we propose to term plastoglobulins. For one of the proteins, termed plastoglobulin 1 (PG1), we have obtained partial N-terminal and internal protein sequences. The amino acid sequence, deduced from cDNA, encoded a precursor protein of a calculated mass of 38,491 Da which contained a 48-residue-long N-terminal signal sequence. Pre-PG1 obtained by coupled in-vitro transcription/translation was imported into pea chloroplasts, its signal sequence was cleaved and mature PG1 was assembled into plastoglobules. Homology searches of the data bases revealed similarity of PG1 to the plastoglobule-associated protein of Capsicum annuum, the carotenoid-associated protein of Cucumis sativus and to a protein of the cyanobacterium Synechocystis sp., indicating that PG1 is a novel member of an ancient protein family. Immunoelectron microscopy using PG1-specific antibodies indicated that PG1 is present in multiple copies on the surface of plastoglobules.

Molecular biology of chloroplast biogenesis: gene expression, protein import and intraorganellar sorting

The chloroplast is the hallmark organelle of plants. It performs photosynthesis and is therefore required for photoautotrophic plant growth. The chloroplast is the most prominent member of a family of related organelles termed plastids which are ubiquitous in plant cells. Biogenesis of the chloroplast from undifferentiated proplastids is induced by light. The generally accepted endosymbiont hypothesis states that chloroplasts have arisen from an internalized cyanobacterial ancestor. Although chloroplasts have maintained remnants of the ancestral genome (plastome), the vast majority of the genes encoding chloroplast proteins have been transferred to the nucleus. This poses two major challenges to the plant cell during chloroplast biogenesis: First, light and developmental signals must be interpreted to coordinately express genetic information contained in two distinct compartments. This is to ensure supply and stoichiometry of abundant chloroplast components. Second, developing chloroplasts must efficiently import nuclear encoded and cytosolically synthesized proteins. A subset of proteins, including such encoded by the plastome, must further be sorted to the thylakoid compartments for assembly into the photosynthetic apparatus.