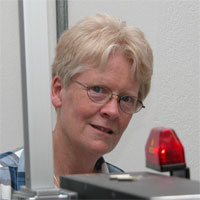 Email
helen.stoeckli-evans@unine.ch
Voici les éléments
1 - 10 sur 50
Pas de vignette d'image disponible
Catalytic Epoxidation of Alkenes by the Manganese Complex of a Reduced Porphyrinogen Macrocycle
2012, Bruyneel, Frederic, Letondor, Christophe, Bastuerk, Bjorn, Gualandi, Andrea, Pordea, Anca, Stoeckli-Evans, Helen, Neier, Reinhard
The present paper details the first application of a fully reduced meso-octamethylporphyrinogen macrocycle as an effective ligand for simple operative manganese-catalyzed alkene epoxidn. The efficiency of the novel catalyst was detd. in the presence of various oxidants, apical ligands and acidic/basic additives. Higher reactivity was found in favor of electron-rich alkenes, whereas an electron-deficient conjugated alkene appeared to be a poor substrate in the screening. Sulfur additives were active as apical ligands, whereas nitrogen-contg. additives influenced the reactivity only moderately. Cis-Stilbene and 3?-acetoxy-5-cholestene were epoxidized in a stereoselective manner. The x-ray structures of the new manganese complexes were detd. and showed a rigid planar coordination geometry of the satd. macrocyclic ligand to the metal center. [on SciFinder(R)]
Pas de vignette d'image disponible
rac-(R)-2-[(2R,5R)-5-Methyltetrahydrofuran-2-yl]propanoic acid
2006, Loiseau, Francois, Neier, Reinhard, Stoeckli-Evans, Helen
In the crystal structure of rac-(R)-2-[(2R,5R)-5-methyltetrahydrofuran-2-yl]propanoic acid, C8H14O3, the 2,5-THF ring junction is cis. The relative configuration of position 2 in the propanoic acid group is the same as that in positions 2 and 5 in the THF ring. In the crystal structure, symmetry-related mols. are linked by O-H...O H bonds to form centrosym. dimers. Crystallog. data are given. [on SciFinder(R)]
Pas de vignette d'image disponible
The novel sequence Diels-Alder reaction/Ireland-Claisen rearrangement applied to acyclic dienophiles: New insights into the selectivity of the Ireland-Claisen rearrangement
1999-1-12, Velker, Joerg, Roblin, Jean Philippe, Neels, Antonia, Tesouro, Ana, Stoeckli-Evans, Helen, Klaerner, Frank-Gerrit, Gehrke, Jan-Stefan, Neier, Reinhard
The new dienes 4a-d, 7 and 11 reacted in good yields with acyclic dienophiles like methyl acrylate and diethyl fumarate in the tandem process Diels-Alder reaction/Ireland-Claisen rearrangement. Analysis of the relative configuration of products 5, 6, 8-10 and 12 indicated that preference for the chair or boat transition state of the Ireland-Claisen rearrangement is strongly influenced by the relative configuration of the substituents of the cyclohexene ring.
Pas de vignette d'image disponible
Diastereoselective synthesis of (1S,2S,3R,6S) 3-chloro-3-methyl-6-isopropenyl-1,2-cyclohexanediol via Prins reaction induced by zinc and trimethylsilyl chloride
1996, Marty, Maurus, Stoeckli-Evans, Helen, Neier, Reinhard
While attempting to synthesize a potential inhibitor of the biosynthetic step of formation of PEG, a novel catalytic system inducing the Prins reaction was discovered. Treatment of epoxy geranial with Zn and trimethylsilyl chloride gave (1S,2S,3R,6S) 3-Chloro-3-methyl-6-isopropenyl-1,2-cyclohexanediol in high diastereoselcctivity.
Pas de vignette d'image disponible
2,2'-(Propane-2,2-diyl)bis(1H-pyrrole)
2010, Journot, Guillaume, Neier, Reinhard, Stoeckli-Evans, Helen
2,2'-(Propane-2,2-diyl)bis(1H-pyrrole), C11H14N2, crystd. with 2 independent mols. (A and B) in the asym. unit. The 2 mols. differ only slightly, with the pyrrole rings being inclined to 1 another at a dihedral angle of 87.67(8)° in mol. A and 88.09(7)° in mol. B. In the crystal, there are no classical H bonds, but the 2 pyrrole NH groups of 1 mol. are involved in N-H···? interactions with the pyrrole rings of the other mol. In this manner, a compact box-like arrangement of the 2 independent mols. is formed. Crystallog. data are given. [on SciFinder(R)]
Pas de vignette d'image disponible
2-[2-(Pyrrolidin-2-yl)propan-2-yl]-1H-pyrrole and its amide derivative 1-{2-[2-(1H-pyrrol-2-yl)propan-2-yl]pyrrolidin-1-yl}ethanone
2012, Journot, Guillaume, Neier, Reinhard, Stoeckli-Evans, Helen
In the title compds., C11H18N2, (II), and C13H20N2O, (III), the pyrrolidine rings have twist conformations. Compd. (II) crystallizes with two independent mols. (A and B) in the asym. unit. The mean planes of the pyrrole and pyrrolidine rings are inclined to one another by 89.99 (11) and 89.35 (10)° in mols. A and B, resp. In (III), the amide deriv. of (II), the same dihedral angle is much smaller, at only 13.42 (10)°. In the crystal structure of (II), the individual mols. are linked via N-H···N hydrogen bonds to form inversion dimers, each with an R22(12) graph-set motif. In the crystal structure of (III), the mols. are linked via N-H···O hydrogen bonds to form inversion dimers with an R22(16) graph-set motif. [on SciFinder(R)]