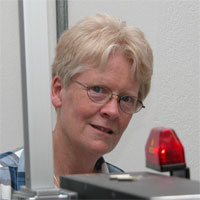 Email
helen.stoeckli-evans@unine.ch
Voici les éléments
1 - 10 sur 139
4-Meth-oxy-benzoyl-meso-octa-methyl-calix[2]pyrrolidino[2]pyrrole: an acyl chloride derivative of a partially reduced calix[4]pyrrole

In the title compound, C(36)H(50)N(4)O(2), the two pyrrolidine rings have envelope conformations. The conformation of the macrocycle is stabilized by N-H(midline ellipsis)N hydrogen bonds and a C-H(midline ellipsis)N inter-action. The benzoyl ring is inclined to an adjacent pyrrole ring by 6.76 (9)°, with a centroid-to-centroid distance of 3.6285 (10) Å. In the crystal, apart from a C-H(midline ellipsis)O and a C-H(midline ellipsis)? inter-action, mol-ecules are linked via an N-H(midline ellipsis)O hydrogen bond, leading to the formation of helical chains propagating along [010].

2,2'-[(2S*,6R*)-Piperidine-2,6-diyl]dipropan-2-ol

In the title compd., C11H23NO2, the piperidine ring has a chair conformation. The two hydroxy H atoms are disordered over two positions with fixed occupancy ratios of 0.57:0.43 and 0.63:0.37. In the mol., there are two short N-H···O interactions. In the crystal, four symmetry-related mols. are linked by O-H···O H bonds to form a cage-like arrangement, centered about the point of intersection of three 2-fold axes. These cages stack along the [100] direction. Crystallog. data and at. coordinates are given. [on SciFinder(R)]

1,3-Disubstituted ferrocene-containing thermotropic liquid crystals: synthesis, mesomorphic properties and the crystal and molecular structure

Two families of 1,3-disubstituted ferrocene derivs. were synthesized and their liq.-crystal behavior investigated. Compds. of series I, (?5-C5H5)Fe[(?5-C5H3)-1,3-(COOC6H4OOCC6H4OCnH2n+1)2] (n = 1-14, 16, 18), exhibited remarkable mesomorphic properties. Indeed, nematic and/or smectic C phases, assocd. with large anisotropic domains, were obsd. Derivs. of series II, (?5-C5H5)Fe[?5-C5H3)-1,3-(COOC6H4OCnH2n+1)2] (n = 1-9), were nonmesogenic. The crystal and mol. structure of Ih (n = 8) was detd. by x-ray anal. The compd. is orthorhombic, space group Pnma, with a 7.602(1), b 57.538(3), and c 10.760(1) Å; Z = 4, dc = 1.302; R = 0.102, Rw = 0.132 for 1401 reflections. The crystallog. data confirmed both a highly anisometric structure for Ih and a compact arrangement of the mols. in the crystal. The present results show that a crit. length/depth ratio of approx. 5-7 must be passed for obtaining liq.-crystal properties. [on SciFinder(R)]

Electron counting and bonding analysis in triruthenium clusters containing sulfoximido ligands: true or false electron-deficient systems?

Triruthenium clusters containing a methylphenylsulfoximido cap or bridge, Ru-3(CO)(9)(mu (2)-H)[mu (3)-NS(O)MePh] (1), Ru-3(CO)(10)(mu (2)-H)[mu (3)-NS(O)MePh] (2), Ru-3(CO)(8)(mu (3)-eta (2)-CPhCHBu)[mu (3)-NS(O)MePh] (3), Ru-3(CO)(9)(mu (3)-eta (2)-PhCCCCHPh)[mu (2)-NS(O)MePh] (4), and Ru-3(CO)(7)(mu (2)-CO)(mu (3)-eta (2)-PhCCCCHPh)[mu (3)-NS(O)MePh] (5) have been examined by EHT and DFT calculations in order to analyze the bonding present in the clusters and to establish the electron counting. They clearly show that a mu (3)-sulfoximido group is not a 3e(-) ligand as one may be led to think at first sight, but rather acts as a three-orbital/5e(-) system, i.e. should be considered as isolobal to an N-R- ligand. Because of some delocalization of its pi -type orbitals on the sulfur and oxygen atoms, it is expected to bind slightly less strongly to metal atoms than classical imido ligands. Once in a Ir, coordination mode, the sulfoximido ligand retains a lone pair on its pyramidalized N atom and becomes a two-orbital/3e(-) ligand. Tt follows that clusters 1, 2, 4 and 5 are electron-precise, whereas cluster 3 is electron deficient with respect to the 18e(-) rule but obeys the polyhedral skeletal electron pair electron-counting rules. Consistently, all the calculated clusters exhibit large HOMO-LUMO gaps and no trace of electron deficiency can be found in their electronic structures. (C) 2001 Elsevier Science B.V. All rights reserved.