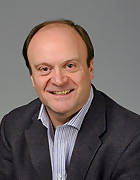 Email
Robert.Deschenaux@unine.ch
Voici les éléments
1 - 10 sur 157
Pas de vignette d'image disponible
Synthesis and characterization of the sodium and lithium cryptates of macrobicyclic ligands incorporating pyridine, bipyridine, and biisoquinoline units
1988, Alpha, Beatrice, Anklam, Elke, Deschenaux, Robert, Lehn, Jean Marie, Pietraskiewicz, Marek
Procedures were developed for the prepn. of Na and Li cryptates of macrobicyclic ligands contg. pyridine, bipyridine, and biisoquinoline groups. They involve stepwise construction of the bicyclic system as well as direct macrobicyclization procedures and give access to both sym. and dissym. structures. Marked cation template effects facilitate the cyclization processes. The ligands were isolated as their cryptates with Na+ or Li+ cations. [on SciFinder(R)]
Pas de vignette d'image disponible
Bent Tridentate Receptors in Calamitic Mesophases with Predetermined Photophysical Properties:  New Luminescent Lanthanide-Containing Materials
1998, Nozary, Homayoun, Piguer, Claude, Tissot, Paul, Bernadinelli, Gérald, Jean-claude G. Bünzli, Deschenaux, Robert, Guillon, Daniel
A new synthetic strategy has been developed to introduce bent and rigid tridentate 2,6-bis(benzimidazol-2'-yl)pyridine cores into rodlike ligands L11-17. The crystal structure of the nonmesogenic ligand L13 (C39H37N5O4, triclinic, P1̄, Z = 2) shows the expected trans−trans conformation of the tridentate binding unit, which provides a linear arrangement of the semirigid aromatic sidearms. The crystal structure of the related mesogenic ligand L16 (C61H81N5O4, triclinic, P1̄, Z = 2) demonstrates the fully extended conformation adopted by the lipophilic side chains, leading to a slightly helically twisted I-shaped molecule. A rich and varied mesomorphism results which can be combined with the simultaneous tuning of electronic and photophysical properties via a judicious choice of the spacers between the rigid central core and the semirigid lipophilic sidearms. Ligands L13,14 react with Ln(NO3)3·xH2O to give quantitatively and selectively the neutral 1:1 complexes [Ln(Li)(NO3)3] (Ln = La to Lu), which are stable in the solid state at room temperature but partially dissociate in acetonitrile to give the cationic species [Ln(Li)(NO3)2]+. The crystal structure of [Lu(L13)(NO3)3]·3CH3CN (30, LuC45H46N11O13, monoclinic, C2/c, Z = 8) reveals a U-shaped arrangement of the ligand strand arising from the cis−cis conformation of the coordinated tridentate binding unit. This drastic geometric change strongly affects the thermal behavior and the photophysical and electronic properties of the lipophilic complexes [Ln(L14)(NO3)3]. Particular attention has been focused on structure−properties relationships, which can be modulated by the size of the lanthanide metal ions.
Pas de vignette d'image disponible
Ferrocene- and fullerene[60]-containing liquid-crystalline materials
1998, Chuard, Thierry, Deschenaux, Robert
A review with 22 refs. showing the versatility of ferrocene and fullerene for the design of thermotropic liq.-cryst. materials: (i) the electrochem. properties of the ferrocene-ferrocenium system were exploited to design redox-active metallomesogens; (ii) ferrocene-contg. side-chain liq.-cryst. polysiloxane and polymethacrylates were synthesized by grafting a mesomorphic vinyl-ferrocene monomer onto com. available polysiloxane and by free-radical polymn. of mesomorphic methacrylate-ferrocene monomers, resp.; (iii) a 1st-generation ferrocene-contg. liq.-cryst. dendrimer was synthesized; and (iv) liq.-cryst. fullerene (10) and mixed fullerene-ferrocene (11) derivs. were obtained by functionalizing the C60 core with a twin cholesterol moiety. [on SciFinder(R)]
Pas de vignette d'image disponible
Crystal smectic-B phase from a mesomorphic ferrocene derivative
1995, Deschenaux, Robert, Marendaz, Jean-Luc, Santiago, Julio, Goodby, John W.
The thermal properties of two ferrocene derivs., substituted by either one or two cholesteryloxycarbonyl units, were investigated. While the monosubstituted ferrocene deriv. was non-mesomorphic, the disubstituted ferrocene deriv. exhibited a crystal smectic-B phase. This result shows that ferrocene-contg. thermotropic liq. crystals, despite the bulkiness of the metallocene core, are not limited to disordered calamitic phases. [on SciFinder(R)]
Pas de vignette d'image disponible
Unsymmetrically 1,1'-disubstituted ferrocene-containing thermotropic liquid crystals
1993, Deschenaux, Robert, Rama, Mafalda, Santiago, Julio
The synthesis and mesomorphic properties of the first family of unsym. 1,1'-disubstituted ferrocene-contg. liq. crystals are reported. All compds. have smectic phases. [on SciFinder(R)]
Pas de vignette d'image disponible
Crystal structures of the lanthanum(III), europium(III), and terbium(III) cryptates of tris(bipyridine) macrobicyclic ligands
1991, Bkouche-Waksman, Itka, Guilhem, Jean, Pascard, Claudine, Alpha, Beatrice, Deschenaux, Robert, Lehn, Jean Marie
The crystal structures of I.LaCl3.2H2O and I.TbCl3.4H2O (X = H) and I.EuCl3.4H2O (X = COOCH3) were detd. I.LaCl3.2H2O is triclinic, space group P?1, with a 18.602(5), b 17.342(5), c 14.130(5) Å, ? 99.98(2), ? 106.26(4), and ? 103.2(3)°; R = 5.8% (Rw = 5.6%). I.TbCl3.4H2O is orthorhombic, space group Cmca, with a 25.510(8), b 10.279(4), and c 31.021(9) Å; R = 5.0% (Rw = 7.3%). I.EuCl3.4H2O is monoclinic, space group C2/c, with a 30.715(8), b 14.121(5), c 23.813(8) Å, and ? 118.62(4)°; R = 5.9% (Rw = 6.2%). The structures confirm the cryptate nature of these species, the cations being bound to the 8 N sites of the ligand. The macrobicycle presents 2 open faces, thus allowing addnl. coordination of 2 species, Cl- ions or H2O mols., to the bound cations. These data provide structural support for the photophys. studies of the luminescent properties of the EuIII and TbIII cryptates, which indicated residual coordination of H2O mols. [on SciFinder(R)]