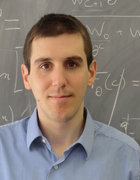 Email
clement.chevalier@unine.ch
Voici les éléments
1 - 10 sur 21
Fast Update of Conditional Simulation Ensembles

Gaussian random field (GRF) conditional simulation is a key ingredient in many spatial statistics problems for computing Monte-Carlo estimators and quantifying uncertainties on non-linear functionals of GRFs conditional on data. Conditional simulations are known to often be computer intensive, especially when appealing to matrix decomposition approaches with a large number of simulation points. This work studies settings where conditioning observations are assimilated batch sequentially, with one point or a batch of points at each stage. Assuming that conditional simulations have been performed at a previous stage, the goal is to take advantage of already available sample paths and by-products to produce updated conditional simulations at minimal cost. Explicit formulae are provided, which allow updating an ensemble of sample paths conditioned on n≥0 observations to an ensemble conditioned on n+q observations, for arbitrary q≥1. Compared to direct approaches, the proposed formulae prove to substantially reduce computational complexity. Moreover, these formulae explicitly exhibit how the q new observations are updating the old sample paths. Detailed complexity calculations highlighting the benefits of this approach with respect to state-of-the-art algorithms are provided and are complemented by numerical experiments.

Estimating and quantifying uncertainties on level sets using the vorob'ev expectation and deviation with gaussian process models

Several methods based on Kriging have recently been proposed for calculating a probability of failure involving costly-to-evaluate functions. A closely related problem is to estimate the set of inputs leading to a response exceeding a given threshold. Now, estimating such a level set—and not solely its volume—and quantifying uncertainties on it are not straightforward. Here we use notions from random set theory to obtain an estimate of the level set, together with a quantification of estimation uncertainty. We give explicit formulae in the Gaussian process set-up and provide a consistency result. We then illustrate how space-filling versus adaptive design strategies may sequentially reduce level set estimation uncertainty.

Enquête suisse sur la structure des salaires : révision de la pondération, adaptation du plan et perspectives

La pondération de l'enquête suisse sur la structure des salaires 2018 est révisée. L'objectif principal de cette révision est d'utiliser l'information sur les revenus des salariés, mise à disposition de l'Office fédéral de la statistique par les caisses de compensation. Cette information avait déjà été utilisée pour réviser le plan de sondage de l'enquête et doit permettre de réaliser des gains de précision. Ce travail a également été l'occasion de revoir toutes les étapes de la préparation des données et de la pondération.