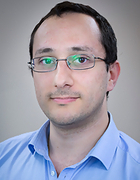 Fonction
Ancien.ne collaborateur.trice
Voici les éléments
1 - 3 sur 3
Long-Term Stability Analysis Towards < 10-14 Level for a Highly Compact POP Rb Cell Atomic Clock

Long-term frequency instabilities in vapor-cell clocks mainly arise from fluctuations of the experimental and environmental parameters that are converted to clock frequency fluctuations via various physical processes. Here, we discuss the frequency sensitivities and the resulting stability limitations at one day timescale for a rubidium vapor-cell clock based on a compact magnetron-type cavity operated in air (no vacuum environment). Under ambient laboratory conditions, the external atmospheric pressure fluctuations may dominantly limit the clock stability via the barometric effect. We establish a complete long-term instability budget for our clock operated under stable pressure conditions. Where possible, the fluctuations of experimental parameters are measured via the atomic response. The measured clock instability of < 2·E10.14 at one day is limited by the intensity light-shift effect, which could further be reduced by active stabilization of the laser intensity or stronger optical pumping. The analyses reported here show the way towards simple, compact, and low-power vapor-cell atomic clocks with excellent long-term stabilities. ≤ 10.14 at one day when operated in ambient laboratory conditions.

Rb-stabilized laser at 1572 nm for CO2 monitoring

We have developed a compact rubidium-stabilized laser system to serve as optical frequency reference in the 1.55-m wavelength region, in particular for CO2 monitoring at 1572 nm. The light of a fiber-pigtailed distributed feedback (DFB) laser emitting at 1560 nm is frequency-doubled and locked to a sub-Doppler rubidium transition at 780 nm using a 2-cm long vapor glass cell. Part of the DFB laser light is modulated with an electro-optical modula-tor enclosed in a Fabry-Perot cavity, generating an optical frequency comb with spectral cover-age extending from 1540 nm to 1580 nm. A second slave DFB laser emitting at 1572 nm and offset-locked to one line of the frequency comb shows a relative frequency stability of 1·10-11at 1 s averaging time and <4·10-12 from 1 hour up to 3 days.

Barometric Effect in Vapor-Cell Atomic Clocks

Vapor-cell atomic clocks are compact and high-performance frequency references employed in various appli-cations ranging from telecommunication to global positioningsystems. Environmental sensitivities are often the main sourcesof long-term instabilities of the clock frequency. Among thesesensitivities, the environmental pressure shift describes the clockfrequency change with respect to the environmental pressurevariations. We report here on our theoretical and experimentalanalysis of the environmental pressure shift on rubidium atomicfrequency standards (RAFSs) operated under open atmosphere.By using an unsealed high-performance laser-pumped rubidiumstandard, we demonstrate that the deformation of the vapor-cell volume induced by the environmental pressure changes(i.e., barometric effect) is the dominant environmental pressureshift in a standard laboratory environment. An experimentalbarometric coefficient of 8.2×10−14/hPa is derived, in goodagreement with theory and with previously reported measure-ments of frequency shifts of RAFS operated when transiting tovacuum.