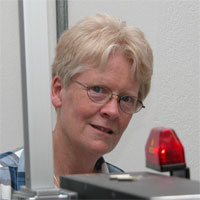 Email
helen.stoeckli-evans@unine.ch
Voici les éléments
1 - 2 sur 2
The mixed-metal carbonyl cluster anion [Os3Ir(CO)(13)](-): Synthesis, structure, reactivity and catalytic activity in the carbonylation of methanol

The cluster anion [Os3Ir(CO)(13)](-) (1) was prepared in 50% yield by reaction of Os-3(CO)(12) with [Ir(CO)(4)](-). The single-crystal X-ray structure analysis of the bis(triphenylphosphoranylidene)ammonium salt shows 1 to consist of a tetrahedral metal core with one of the 13 carbonyl ligands being bridging. Protonation of 1 led to the neutral cluster HOs3Ir(CO)(13) (2), whereas the hydrogenation gave the cluster anion [H2Os3Ir(CO)(12)](-) (3). The catalytic activity of 1 for the carbonylation of methanol was studied. Using CH3I as co-catalyst, catalytic turnover numbers up to 1800 were obtained (140 degrees C, 30 bar) within 14 h. (C) 1999 Elsevier Science B.V. All rights reserved.

Electron-deficient triruthenium and triosmium clusters from the reaction of the cluster anions [HM3(CO)(11)](-) (M = Ru, Os) with tricyclohexylphosphine in methanol

The reaction of Na[HRu3(CO)(11)] with an excess of tricyclohexylphosphine in methanol gives the neutral complex H2Ru3(CO)(6)(PCy3)(3) which is the first 44 e(-) triruthenium cluster reported. This highly electron-deficient species reacts with carbon monoxide to give the saturated 48 e(-) cluster Ru-3(CO)(9)(PCy3)(3). The electronic structure of the novel 44 e- cluster was established by EHT and DFT molecular orbital calculations of isoelectronic model compounds. The analogous reaction of [N(PPh3)(2)][HOs3(CO)(11)] with PCy3 in methanol affords the 46 e(-) cluster H2Os3(CO)(7)(PCy3)(3), the first trisubstituted derivative of H2Os3(CO)(10). In all cases methanol acts as source of protons for the formation of the hydride clusters. (C) 1999 Elsevier Science S.A. All rights reserved.