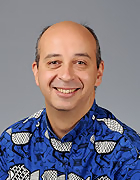 Voici les éléments
1 - 10 sur 63
Pas de vignette d'image disponible
Defecation behaviour of the Lined Bristletooth Surgeonfish Ctenochaetus striatus (Acanthuridae)
2008, Krone, R., Bshary, Redouan, Paster, M., Eisinger, M., van Treeck, P., Schuhmacher, H.
The feeding and defecation behaviour of the surgeonfish Ctenochaetus striatus was investigated at Ras Mohammed National Park (South Sinai, Red Sea). The fish feed on coral rock mainly by sweeping loose sediment with their flexible broom like teeth into their mouths. Feeding occurred exclusively on coral rock, but defecation took place only outside the grazing area above sand in small, precisely defined areas.
Pas de vignette d'image disponible
Negotiations over Grooming in Wild Vervet Monkeys (Chlorocebus pygerythrus)
, Van de Waal, Erica, Spinelli, Martina, Bshary, Redouan, Ros, Albert Frank Huascar, Noë, Ronald
Mutual grooming plays a central role in the establishment and maintenance of social relationships in primates. Allogrooming has two main functions: hygiene and bonding with partners. The duration of grooming bouts is commonly used in studies of the functional aspects of grooming, but few reflect on the proximate mechanisms that determine grooming bout lengths. As it is highly unlikely that groomer and groomee prefer exactly the same bout length, we are likely to observe the result of some form of negotiation. We currently lack information about the signals that primates employ to inform others about their intentions and desires concerning grooming interactions. From October 2006 until April 2007 we studied three behaviors shown in grooming interactions that could potentially have a signaling function in the negotiation process over the initiation and length of grooming bouts among adult females of two vervet groups freely ranging in the Loskop Dam Nature Reserve, South Africa: approaching another individual as far as that resulted in a grooming session, changing of the body position by the groomed individual, and lip smacking. We found that "approach" did not reliably predict which individual would receive grooming first, although approaching individuals groomed significantly more than those approached. Thus, in the context of grooming interactions, moving toward a group member may signal the willingness to invest. Body part presentations appeared to be the main signal used to demand a prolongation of the grooming by the partner. Finally, lip smacking was used under potentially stressful circumstances, notably shortly before using the mouth to groom the partner or an attempt to touch a mother's infant. Our exploratory study hopefully inspires colleagues to start looking at the role of communication during cooperative interactions for a better appreciation of how animals manage cooperation and negotiate exchange rates.
Pas de vignette d'image disponible
Intra- and interspecific aggression do not modulate androgen levels in dusky gregories, yet male aggression is reduced by an androgen blocker
, Vullioud, Philippe, Bshary, Redouan, Ros, Albert Frank Huascar
Discussions about social behavior are generally limited to fitness effects of interactions occurring between conspecifics. However, many fitness relevant interactions take place between individuals belonging to different species. Our detailed knowledge about the role of hormones in intraspecific interactions provides a starting point to investigate how far interspecific interactions are governed by the same physiological mechanisms. Here, we carried out standardized resident–intruder (sRI) tests in the laboratory to investigate the relationship between androgens and both intra- and interspecific aggression in a year-round territorial coral reef fish, the dusky gregory, Stegastes nigricans. This damselfish species fiercely defend cultivated algal crops, used as a food source, against a broad array of species, mainly food competitors, and thus represent an ideal model system for comparisons of intra-and interspecific territorial aggression. In a first experiment, resident S. nigricans showed elevated territorial aggression against intra- and interspecific intruders, yet neither elicited a significant increase in androgen levels. However, in a second experiment where we treated residents with flutamide, an androgen receptor blocker, males but not females showed decreased aggression, both towards intra- and interspecific intruders. Thus androgens appear to affect aggression in a broader territorial context where species identity of the intruder appears to play no role. This supports the idea that the same hormonal mechanism may be relevant in intra- and interspecific interactions. We further propose that in such a case, where physiological mechanisms of behavioral responses are found to be context dependent, interspecific territorial aggression should be considered a social behavior.
Pas de vignette d'image disponible
Social-learning abilities of wild vervet monkeys in a two-step task artificial fruit experiment
2011, van de Waal, Erica, Bshary, Redouan
Social learning is the basis for the formation of traditions in both human and nonhuman animals. Field observations and experiments provide evidence for the existence of traditions in animals but they do not address the underlying social-learning mechanisms. We used an established laboratory experimental paradigm, the artificial fruit design, to test for copying of a sequence of actions and local enhancement in six groups of wild vervet monkeys, Chlorocebus aethiops. We introduced a two-step task where models had to remove a bar to untie a rope that blocked a single door of a box. The models were high-ranking individuals that monopolized the box early on and discovered by trial and error how to open it. We obtained successful models in three groups, while the other three groups acted as controls. After 20 successful demonstrations, we tested subjects with a box that had a rope in the same position but the rope was not functional. Under these conditions, sequential copying of the two-step opening did not occur. Only individuals that were exposed to models were likely to touch the bar if door opening was not immediately successful, providing evidence for local enhancement. When we presented the boxes with the functional rope, we found no effect of having been exposed to a model on the probability that subjects solved the task. We conclude that the social-learning abilities of wild vervet monkeys are relatively limited and discuss potential problems concerning the technical difficulty of the task.
Pas de vignette d'image disponible
Variable responses of hawkmoths to nectar-depleted plants in two native Petunia axillaris (Solanaceae) populations
2011, Brandenburg, Anna, Bshary, Redouan
Pollination success of deceptive orchids is affected by the density and distribution of nectar providing plant species and overall plant density. Here we extended the framework of how plant density can affect pollination to examine how it may promote the success of plant intraspecific cheaters. We compared hawkmoth behaviour in two native populations of Petunia axillaris, where we simultaneously offered rewarding and manually depleted P. axillaris. We asked whether pollinator foraging strategies change as a function of plant density and whether such changes may differentially affect nectarless plants. We observed the first choice and number of flowers visited by pollinators and found that in the dense population, pollinators visited more flowers on rewarding plants than on nectar-depleted plants. In the sparse population, such discrimination was absent. As we found no differences in nectar volume between plants of the two populations, the observed differences in plant density may be temporal. We reason that if differences were more permanent, an equivalent of the remote habitat hypothesis prevails: in a sparse population, cheating plants benefit from the absence of inter- and intraspecific competitors because pollinators tend to visit all potential resources. In a denser population, a pollinator's optimal foraging strategy involves more selectivity. This would cause between-plant competition for pollinators in a pollinator-limited context, which applies to most hawkmoth-pollinated systems. We propose that nectar-provisioning of plants can be density-dependant, with cheaters able to persist in low density areas.
Pas de vignette d'image disponible
The sweetest thing: Advances in nectar research
2009, Brandenburg, Anna, Dell'Olivo, Alexandre, Bshary, Redouan, Kuhlemeier, Cris
We all appreciate the beauty of flowers, but we seldom consider their function in the life cycle of the plant. The function of beautiful flowers is to advertise the presence of nectar. Floral nectar is the key component in the mutualism between flowering plants and their pollinators. Plants offer nectar as a reward for the transport of pollen by animal vectors. Studying nectar is challenging because of its complex physiology, complex polygenetic structure, and strong environmental variability. Recent advances set the stage for exciting future research that combines genetics and physiology to study ecological and evolutionary questions.